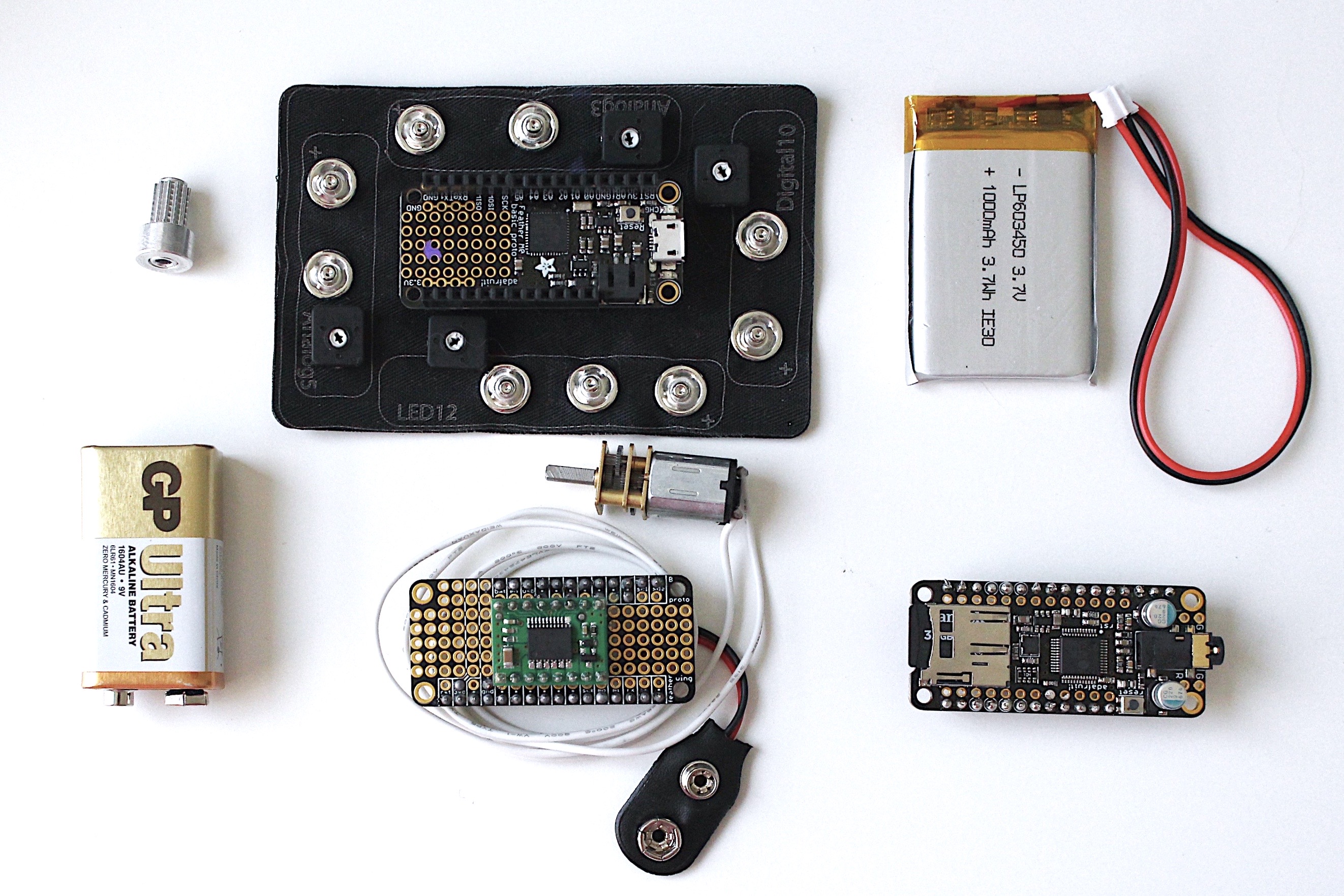 Infinite is an e-textile toolkit that enables designers to craft textiles and garments with integrated technology.
Electronic textiles (e-textiles) have extended electronics to the field of textiles
[1]
and fashion
[2]
, with designers increasingly becoming interested in using physical computing in their designs. However, there is a lack of support for those designers in developing technical skills alongside their expertise in materials.
[3]
.
Inspired by the open-ended approach of the Kit-of-No-Parts,
[4]
, Infinite is an e-textile toolkit developed with a low entry threshold for fashion and textile designers who have no prior experience in electronics while also supporting functions that require more complex circuitry. It allows for open-ended textile interface explorations, and encourages designers to create interfaces out of raw materials in the context of their design. Beyond the provided technical support, Infinite assists communication in collaboration between designers and technologists
[5]
.
Mei Zhang - CN
Mei Zhang is a designer and researcher at the Centre for Digital Music (C4DM), Queen Mary University of London. Her work investigates how to better support textile and fashion designers to implement digital interactions within their work, and is interested in the design methodologies of crafting textiles and garments with integrated technology. She previously taught e-textiles to students at the Royal College of Art with whom she established an ongoing collaboration.
mei.zhang@qmul.ac.uk
View profile︎︎︎
---
The following projects were created by textile and fashion students from the Royal College of Art (UK) using the Infinite eTextile toolkit. The collection emerged from a collaborative project between Queen Mary University of London, Imperial College London, and the RCA Textiles Futures Project 2020, the Royal College of Art.
Feiyang Zhang, The Forbidden Eden
Living in the dystopian world, there are less and less things that allow us to breathe under the non stopping pressure. In order to find herself a place to escape from the reality of our world, Feiyang created her own garden of Eden. Inspired by the forms of jellyfish and how their organisms work together, Feiyang used the techniques of soft robotics and computing through the Infinite toolkit to achieve a level of breathing, softness and interaction. This project reflects a serious underlying problem hidden inside people living in the present society. Without expressing our inner feelings, we have accumulated so much pressure that we can hardly breathe. As a storyteller, Feiyang wishes to portray this phenomenon through her imaginary world.
Feiyang Zhang - CN
MA Textiles Student (Mixed Media), Royal College of Art
Artist and designer currently based in London. Specialised in textile and innovation design including material future, embroidery design and installation art. Seeking for opportunities to build a career in the creative field.
Visit website︎︎︎
---
Jiaxi Li, God Creation Project - 当代造神计划
God Creation Project contains a series of interactive, vibrant and dynamic floor-based knitted sculptural works. Displaying a diverse approach to form, sound and space, these sculptures are created upon methods of machine knitting, solidifying knit structure and physical computing via the Infinite toolkit. This project explores God Creation as a form of shelter and spiritual escapism. The action of God Creation can be considered a physiological stress response towards an unstable social and political environment. A metaphor of 'strong light' which becomes a medium of 'conversation with the god' was translated through light dependant resistors that activate motions operated by embedded motors. As a spectator and participant, Jiaxi created a shelter for herself escaping the oppression of reality.
Jiaxi Li - CA
MA Textiles Student (Knit), Royal College of Art
Jiaxi Li is a textile/fashion designer who is a MA Textiles student at the Royal College of Art and holder of a bachelor's degree in fashion design from Parsons School of Design. Jiaxi has built a multidisciplinary design practice in material exploration, cross-subject collaboration, craftsmanship and aims to break the traditional industrial boundaries.
Visit website︎︎︎
---
Siying Chen, The Annoying Gum
The Annoying Gum project is about people's daily interaction with bubble gum. The project builds a scene of a person stepping on gum and trying to get rid of it, and it shows the annoyance of the bubble gum in the form of a knitted puppet show. The outcome of the project is to create a movable knitted character that performs itself and interacts with people. The Infinite toolkit has been used to build the interaction part of the project. The interaction is presented through the use of a knitted stretch sensor that triggers a motor to allow the puppet to move.
Siying Chen - CN

MA Textiles Student (Knit), Royal College of Art
Siying Chen is a textile designer and a MA Textiles student at the Royal College of Art. Siying gets inspired by story characters, people, dreams and nonsense, and interprets them into knit in a playful, whimsical and childish way. Siying enjoys making crafty 3D knit objects, drawing patterns and shapes from figurative things like bodies and toys.
Visit website ︎︎︎

---
Loy Chan, Seamless Technology Initiative | Digital Interlink


Wearable technology will become a state of cultural adoption, where we understand the digital interface as one of the most interactive systems. With support from the Infinite toolkit, the `Interlink Digital Interfaces consist of a multiple gesture switch, a pressure sensor from the glove and a Rotate motor switch as output. This interface enables a proactive adjustment to the performance of the outerwear and intuitive interactions with the digital surroundings of our body and garment.
Loy Chan - HK, CN
MA Fashion Menswear Graduate, Royal College of Art
Futurist | Brutalist | Zeitgeist, collaborative mindset aiming to think not just from a fashion designer perspective but forming a wider and more holistic approach, from the user interface to the potential material development for wearable technology projects.
Visit website︎︎︎